Viking Analytics wins Ignite Awards in the B2B Engagement category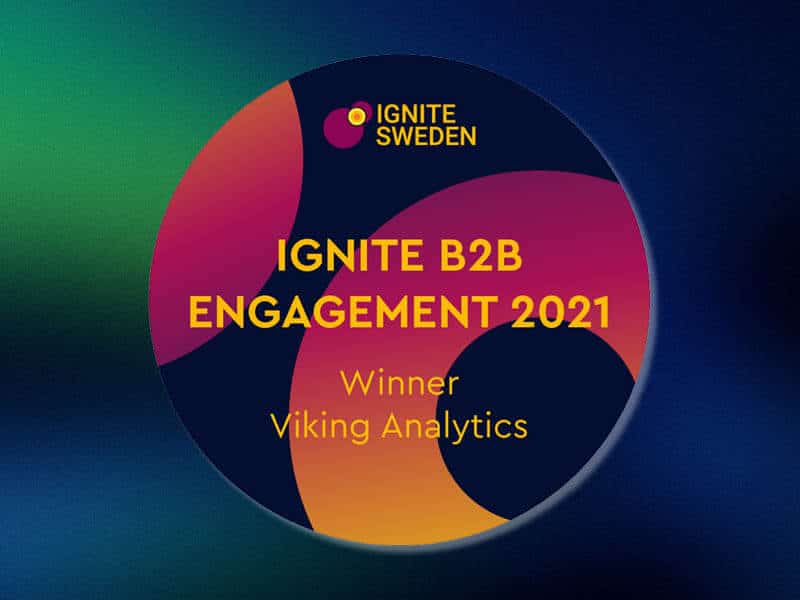 Viking Analytics was one of the winders of the Ignite Awards 2021. In a ceremony on November 29th, the company received the Ignite B2B Engagement 2021, which recognizes startups that have met more corporations during the year.
The startup's unique AI-based predictive maintenance software has been key to addressing needs from both Swedish and international enterprises. The output from 16 meetings in 2021 looks very promising, with several ongoing follow-up processes and at least one international pilot that has the potential to develop into a full rollout.
Stina Lantz, Program Manager at Ignite Sweden, said that "Viking Analytics has shown that it is possible to build a business based on applied AI. Being front-runners in this area, they have closed several deals with both Swedish and international large companies. Achieving this even during the pandemic!"
About Ignite Awards
This is the 5th edition of the Ignite Awards. The Awards aim to recognize both private and public sector collaboration with startups. We celebrate municipalities and large companies cooperating with at least one startup during the year.  
About Ignite Sweden 
Ignite Sweden is a program led by Kista Science City, THINGS, STING, LEAD, MINC, Sahlgrenska Science Park and Uminova in collaboration with SISP. Ignite is co-funded by Vinnova and Energimyndigheten.
The initiative aims to foster innovation by connecting large companies and public organizations to startups around the world.
Since it began in spring 2017, Ignite has organized matchmaking events all over Sweden connecting 837 startups with 260+ corporates, resulting in 4387 meetings and most importantly 349 commercial collaborations, of which 120+ have been initiated during the covid pandemic. This highlights how innovative collaborations can work regardless of the distance.